Computer Society of India
Student Branch, GEC Barton Hill
CSI Student Branch GECBH is one of the active technical society of Government Engineering College Barton Hill, Trivandrum
SB aims for the betterment of every student of the college who wishes to have professional knowledge in the field of Information Technology. The society will always work for the betterment of students along with the progress of GECBH to achieve greater heights.
Webinars and Workshops
Competitions and other Events
Platforms to showcase skills
CSI BETA
A new association named CSI Beta was formed and introduced on 24th August, 2020 to assist the Non-ITians of GECBH in improving their skills in the field of IT.
&nbsp Opportunity to associate with India's largest professional organization.
&nbsp Mentorship for building a better career in the field of IT.
&nbsp Assistance for those joined for Btech Minors - IT Basket.
&nbsp Benefits on paid events of CSI.
&nbsp Effective utilisation of IT within your respective department.
&nbsp Regular technical sessions.
&nbsp Open to all Non-ITians of GECB.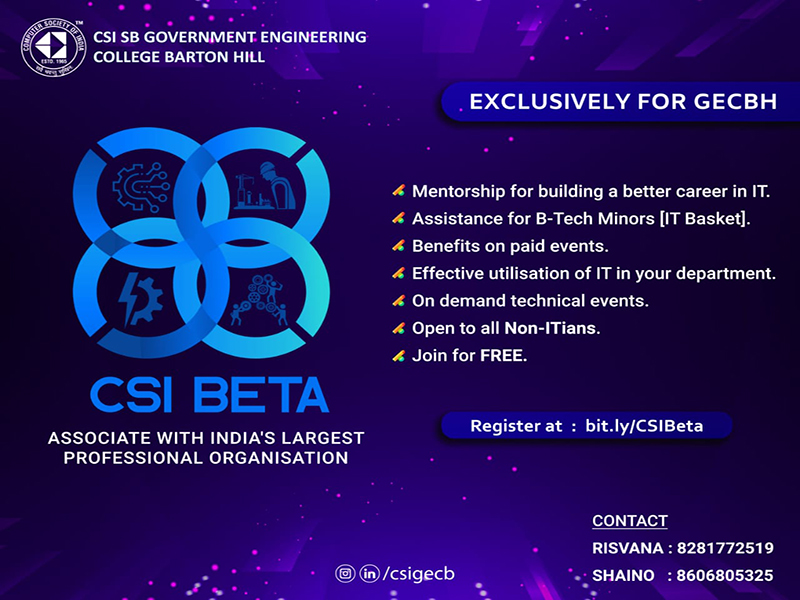 Our Achievements
We were able to connect and acknowledge our activities to CSI Trivandrum Chapter through National Student Tech Talk Series earlier this year.
Later, in February 2021, a National Conference on Deep Learning was conducted by CSI TVM Chapter and our SB was specifically invited for it. The proceedings of the conference were handed over to our Chairman by the chief guest Dr. Usha Titus IAS.
Most proudly, 5 members from our Execom was elected as the Student Activity Committee members for the year 2021-22
The Path lighted out by my guru and mentor Late prof. Krishnan kutty rightly set us to unleash our creative potential and all credits goes to my lovely students who make it all happen amidst the pandemic.
Josna V R
Student Branch Counsellor
CSI SB GECBH is setting new standards with the tremendous volunteering enthusiasm shown by the execom team as well as the volunteers. This will obviously help GECB to achieve greater height. But as said "we have promises to keep and miles to go".
Shaino Sajimon
Chairperson


Contact
Government Engineering College,
Barton Hill,
Kunnukuzhi,
Thiruvananthapuram,
Kerala, 695035
Location:
Government Engineering College, Barton Hill
Email:
csigecbh@gmail.com